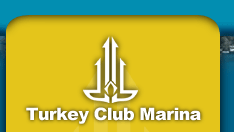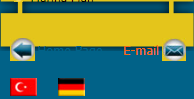 Facilities
Restaurant, Bar, Cafe, Fitness Centre, Sauna, Turkish Bath, Market, Private Villas, Captain's Cafe, Boutique, Exhibition Hall, Telephone Boots, Showers and Toilets.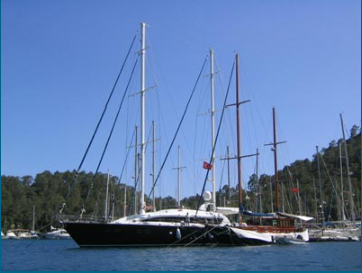 Services
-Dock Handler assistance is available 24 hours a day
-Dockage facility for vessels up to 80 meters
-Mooring facility for vessels up to 100 meters
-Private Quays for super mega yachts
Marina Office
-Front Office and Marina Operations are available in the following languages: Turkish, English, German, Russian and French
-The Department of Customs and Harbour Master Relations.
– Currency Exchange
– Daily Weather Forecast
– Villa Reservations
– Post Box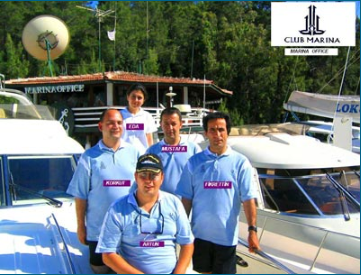 Ferry Service
Free ferry service is available between Club Marina and the Skopea Marina (Downtown Gocek) starting from 07:45 am until Midnight during the summer season.
Ferry Service schedules are on a seasonal basis and displayed on the information boards and in the Marina Office
Fuel Station
Our fuel station, which is equipped with high technology pumps, is at your service throughout the year, 24 hours ba day. Our station is capable of collecting sewage (grey water) and bilge water of yachts during re-fuelling.


Electricity Connection
Club Marina has an efficient power distribution network and a 875 kwa generator. There are a total of 134 electricity and water supply boxes in the marina. The total number of plugs on power bollards is 226. General power distribution is as follows :
71 Three-phase and mono-phase 230 V – 400 V
63 Mono-phase 200 – 250 V
25-40-63-100-125-200 amperes available.
Water Connection
Water is supplied through the bollards and each bollard has 2 taps.
Internet
WLAN Wireless Local Area Network system has been established in the marina. Login User Names and passwords are available from the marina Office.
Telephone
Telephone booths are available for the public's use. Private telephone lines are available upon request.
Security
Club Marina is guarded by the Club Marina Private Security Department on a 24 hour basis.
Fire Fighting Units
Fire Alarm Systems
A 7.30m Fire Boat has fire fighting capability with foam and sea water extinguishing systems and has supplementary ABC fire extinguishers on board. This boat can also be used for towing, rescue and evacuation purposes. The marina personnel are well trained, exercised and ready to intervene in case of an emergency situation. Each quay is equipped with additional ABC dry chemical powder fire extinguishers.
The fuel station is equipped with independent fire-fighting apparatus.
Parking
Is available upon request…
Maintenance and Servicing Opportunities
Laundry service
Medical services